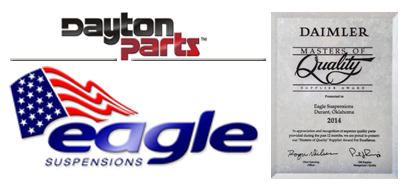 Eagle Suspensions is recognized for Quality and Performance
Eagle Suspensions, a division of Dayton Parts, LLC - a leading manufacturer of multi leaf and parabolic springs, earned the 'Masters of Quality' award. This is the highest recognition that Daimler Trucks North American awards to its suppliers. Eagle Suspension was one of 91 suppliers who received the 2014 'Masters of Quality' Supplier Award. Suppliers are evaluated on their quality, delivery, technology and cost performance. These award winners demonstrate an on-going commitment to improving the quality of their products and overall performance of their businesses.

"It is an honor to be recognized by Daimler Trucks North America for this award," stated Paul Anderson, Vice President of Manufacturing. "It shows our employees that the continued process improvements and dedication to meet Daimler Truck North America's rigid standards is being noticed". This is the first year Eagle Suspensions has been recognized with this award.
11/20/2015 8:45:57 AM
---