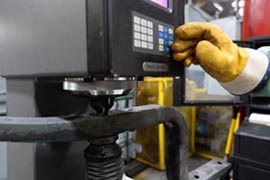 Supporting OEM Designs and Production
Full engineering support is offered to our OEM partners which includes initial suspension design, production planning, manufacturing control and final testing. We welcome inquiries into design requirements and recommendations utilizing our industry leading design and manufacturing standards. Each design is treated with the utmost importance in order to minimize lead time and to ensure quality throughout our process.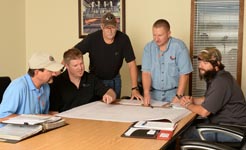 Design & Engineering Team
Our team has decades of experience designing, co-developing and implementing complete suspension solutions with many of the largest truck and trailer builders in the world. Our team supplies CAD 3D designs in your native format and supports Solidworks, FMEA, ProE, AutoCAD, and WIlson Intrument BH3000 amongst others.
The industry landscape is changing with increased importance on reducing vehicle weight and improving fuel economy without sacrificing performance. Eagle has invested heavily in the people and equipment necessary to excel at developing and producing lighter more efficient springs with improved ride quality. Additionally, we continue to work on new processes and on the development of new materials and alloys which we constantly seek in conjunction with our steel suppliers.
Manufacturing Platform
Eagle offers a high volume platform for OE production with the latest equipment available supporting higher tech spring options. Our manufacturing is responsive with industry leading lead times and adaptive production planning. Our Durant, Oklahoma plant is our primary OE facility with high volume capacity supported by five parabolic taper mills. Our Harrisburg, Pennsylvania spring plant provides backup capacity and flexibility for our production needs and gives us a combined capacity of over 60,000 MT.
Laboratory and Testing Capabilities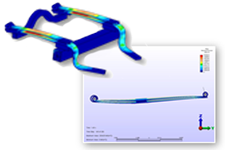 Internal testing capabilities are available including:
Finite Element Analysis (FEA)
Load control fatigue testing
Brake torque testing
Digital Brinell hardness testing
Computerized load deflection analysis
Digital dimensional testing
Other testing capabilities (external):
Microstructure conformity analysis
Corrosion resistance testing
Tensile strength verification
Complete metallurgical analysis
Raw materials certification
Laser imaging for dimensional conformity